About
Chronicles of Darkness tells the untold story of the inglorius battles
between the Companions and the Death Knights originated from my
RPG "The Companions: Ton the Underworld."
Special Features
-Classes
-RPG like stat system
-Intelligent Protectors
-Intelligent ability formulas
-Item attachments
-Unique terrain
---
Classes
Chronicles of Darkness brings you to a new style of AoS trashing the
generic, numerous numbers of heroes narrowing the options to a limited
classes that has particular expertise but can still cover multiple roles through
the right combination of equipment and stat distribution.
---
RPG like stat system
When your hero gains a level you'll be give 5 skill points to increase the following stats at
the stat upgrade (F1)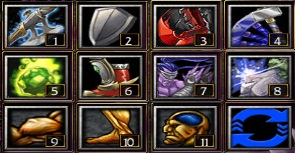 1. Damage: Increase physical damage dealt
2. Armor: Increase physical damage resistance
3. Critical Rate: Increase chance of double damage
4. Bash Rate: Increase chance of stunning target
5. HP: Increase Hit Points
6. Movement Speed: Increase Movement Speed
7. Evasion Rate: Increase chance of evading
8. Spell Damage Reduction: Increase spell resistance
9. STR: Increase Hit Point Regenartion
10. AGI: Increase Attack Speed
11. INT: Increase spell power multiplier, mana and mana regeneration
---
Intelligent Protectors
Protectors are the unique counter part of the towers of the generic AoS maps.
The Protectors are heroes with a good chunk of HP, Damage and Armor and uses
abilities to protect your bases against waves of enemies.
---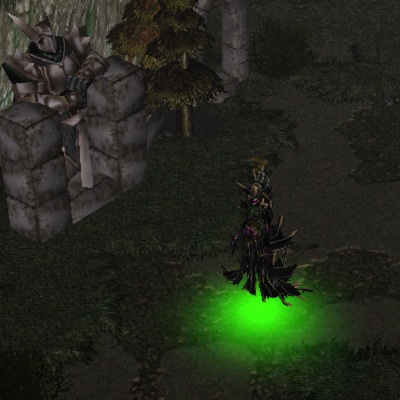 ---
Item Attachments
Chronicles of Darkness mostly rely on stat upgrades but there are also items in the game
that you can buy. They are equipment like weapons, armors and shields that will
pop-up in your hero when bought.

They are quite expensive for decorations but since stat upgrades rely on skill points
then a chunk of golds for cheese doesn't hurt, besides it also give you some bonuses.
---
---
---
Unique terrain
Well designed terrain for a AoS map is hard to find in this mediocority and fortunately
Chronicles of Darkness is one of those hard to find maps! Set in the RUINS of a fictional
place called Ak'duar Ruis, originated from the lore of my RPG "The Companions: To the Underworld". I give you a eye please terrain that still retains the Warcraftish feeling but
while being fresh and hot.
---